Principal's Message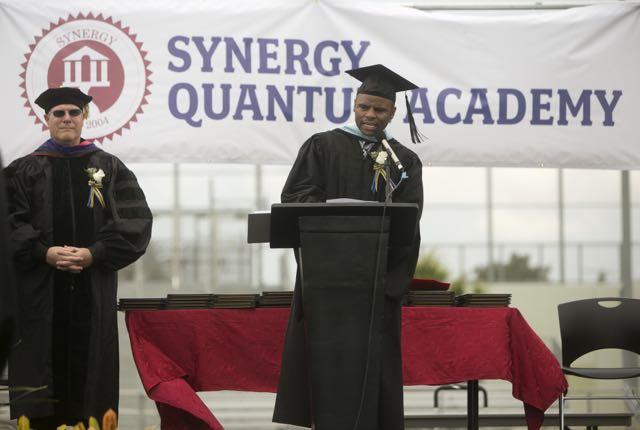 PRINCIPAL'S MESSAGE

Welcome to Synergy Quantum Academy!
Synergy Quantum Academy opened its doors on September 7, 2011 to 400 freshmen, sophomores, and juniors. In 2012- 2013, we expanded to over 500 students in grades 9-12 and we had our first graduating class of seniors. Forty-seven of those fifty-seven seniors graduated. That's a graduation rate of over 82%. This is significant since we had those students for only two years before they graduated.
On June 5th, 2015, we celebrated our third commencement ceremony. The Class of 2015 is the first graduating class that has attended Synergy's high school since they were in 9th grade when the school first opened in 2011. Even though Synergy is in a community where less than a third of adults have a high school diploma, over 98% of Synergy's seniors graduated this year. Of the 138 graduates, 54 started with Synergy in middle school, and 15 have attended Synergy schools since elementary. Nearly 90% of our graduates are planning to attend a 2 or 4-year university.
We are co-located on the Dr. Maya Angelou Community High School campus in South Los Angeles. As a S.T.E.M. (Science, Technology, Engineering, and Mathematics) focused high school, we are preparing our students to be the innovators of tomorrow. We are fortunate to have exceptional teachers, counselors, and support staff.
Our teachers implement Synergy's Four Key Instructional Strategies that have made Synergy Charter Academy (grades K-5) and Synergy Kinetic Academy (grades 6-8) successful: 1) Focus on Fluency, 2) Focus on Academic Language, 3) Focus on Schemas, and 4) Focus on Time on Task. As students come to school everyday, we ask them to be mindful of their relationships with others, work hard to do their best everyday and, bring out the best in each other every day, in every way.
Parents play a very important role in their child's education at Synergy Quantum Academy. They ask their children daily what they have learned in school. Parents attend parent conferences, parent meetings, sports events, and other school activities. We take pride that our parents are active participants in their child's education. We strive to prepare every student for college.
Our vision is to produce students who are creative thinkers, motivated learners, and lovers of knowledge. Every day I look forward to working with our students, their parents and our staff to make these dreams a reality.
Sincerely,
Phillip Gedeon
Director/Principal
Synergy Quantum Academy